V tejto sekcii sa dozviete všetko čo potrebujete vedieť o našich ponožkách. Vaša spokojnosť je pre mňa nesmierne dôležitá, a na to, aby ste boli spokojný so zakúpeným tovarom musíte mať adekvátne očakávania. Prosím venujte preto tejto sekcii zvýšenú pozornosť.
Toto nie sú 100% bavlnené ponožky. Na bavlnené ponožky sa totiž nedá tlačiť v takejto kvalite. Zloženie týchto ponožiek je – 67% polyester, 28% bavlna, 5% spandex. Čierna časť päty, šlapy a špičky je pre vaše maximálne pohodlie bavlnená s prímesou spandexu na zabezpečenie elasticity ponožky. Biela časť je dominantne polyesterová pre dosiahnutie sýtych farieb a maximálnej kvality vyobrazenia.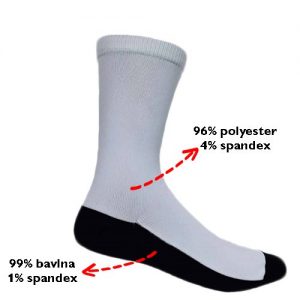 Ponožky sa potláčajú z prednej a zadnej strany. To znamená, že po bokoch ponožky ja viditeľný spoj. S tým tiež súvisí, že pri tejto metóde potláčania je takmer nemožné na milimeter dokonalé napasovanie pokračovania vzoru.
Ponožky je možné prať v práčke na maximálnej teplote 30 stupňov. Pri vyššej teplote neručíme za zachovanie kvality. Ponožky pri praní na teplote 30 stupňov nepúšťajú – mám to osobne odskúšané. Ponožky nežehlite, znehodnotili by ste ponožky aj vašu žehličku.
Všetky procesy spojené s našimi ponožkami prebiehajú na Slovensku. To znamená, že ponožky sú pletené na Slovensku a potlač je rovnako realizovaná na Slovensku.